Dr. S. AKKBAR KAUSAR
DR. CHECKING THE PATIENT
PREPARATION FOR MEDICINES
These research works were released at the 2 days national symposium of medicinal plants held at Avinashilingam University, Coimbatore, on friday the 2nd Nov, 2001 by Rev. Dr. S. IGNACIMUTHU, S.J. Vice Chancellor, Bharathiar University, Coimbatore, which was received by Dr. Akbar Kausar, Director Al-Kausar Herbal Hospitals, (P) Ltd.
Achievements, Awards and Citations :
A life time of hard work and the satisfaction that one has been of use to the society are the greatest awards a person can receive. Nevertheless, awards in recognition of one's excellence by governments and institutions are the human way of bestowing honour on deserving person. No other person so richly deserves these honours than Dr.Rajammal P.Devadas, whose every breath has been expended in research of Dr.Akbar Kausar's kasini products and for the welfare of the downtrodden, the rights of women and children and for the cause of higher education for the women. The following are the recognitions bestowed for her illustrious contributions to welfare programmes, community rehabilitation and research.
She has completed her PH.D.(Nutrition and Bio - Chemistry) Awarded Home Economics associations Phi.U.International Scholarship along with the Government of India Overseas Scholarship) from Ohio State University, USA in 1950 and D.Sc. from University of Madras in 1978.

See Dr. Kausar daily
10:20 am to 10:30 am
3:00 pm to 3:10 pm
6:50 pm to 7:20 pm
11:00 pm to 11:10 pm
ETV URDU

10:30 pm to 11:00 pm
N.R.I PUNJABI
2:30 pm to 03:00 pm.
10:00 pm to 10:30 pm
JAGRAN CHANNEL

1:10 pm to 01:20 pm
8:30 pm to 08:40 pm
7 STAR CARE

8:30 am to 8:40 am
7:30 pm to 7:40 pm
10:30 pm to 10:40 pm
JAIN TV

11:30 am to 12:00 pm
2:30 pm to 3:00 pm
100 BEDS
KASINI DIABETES
HERBAL HOSPITAL
SUKOON MAHAL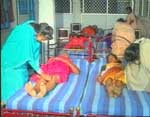 PATIENTS UNDER TREATMENT
HOSPITAL INSPECTING BY DR. KAUSAR HIMSELF
MUGHAL GARDEN