Dr. S. AKKBAR KAUSAR
DR. CHECKING THE PATIENT
PREPARATION FOR MEDICINES

KASINI : THE HOLY WONDER HERB
KASINI IN AYURVEDA
The ancient Ayurveda books have identified the properties and uses of Dr. Akbar kausar's Kasini. It has been described as anti inflammatory, digestive stomachic, liver tonic, cardio tonic and diuretic. It ha been considered useful in the vitiated conditions of Kapha and pitta, in inflammations, jaundice, splenomegaly, allergic conditions, arthalgia and asthma.
The Dravyaguna vijnanam states about Kasini as
Kasini Lagutiktosna kapatittahari katuh
Yakrdvidare hrdroge mutrakrcchre ca sasyate
Elsewhere also it has been described
Ruksona Kasani hrdya, mutrala, raktasuddhikrt
Tikta laghvi sophadah kamalagulmasulanut
Sandhiroga prasamani paramarthatva sodhani
Sitapittayakrt plihavrddhinetrarujadisu
Anidrayam hrdvikare kase svase sivoruji
Atisave ca sasta sa balya dipanapacani
(Indian Medicinal Plants Vol 2 – Orient Longmans)
A CAUTION AGAINST DUPLICATE KASINI PLANT
It is well known that Kasini was found out as a herbal medicine by the Arab Physicians of the past and was confirmed its medical qualities 1400 years ago by the Prophet of Allah, Muhammed (Sal). Even since Kasini has been popularized in Tamil Nadu by Dr. Akbar Kausar, it has been found out that some plant similar to Kasini in appearance are sold by the vegetable market, the wild Kasini which is called jungli or kattu Kasini is sold in Coimbatore. Mullangi leaves are also mistaken for Kasini leaves. The leaves of chichory, the roots of which are used to mix with coffee are also sold as kasini In Hyderabad especially in the campus of the Government. Nizamia General Hospital. The false Kasini which is called Chichorium Endiva linn is given as kasini., But this herb has no anti diabetic effect.
In Unani Medical literature more than a hundred books which was written centuries ago mention the real Kasini as Chichorium Intybus. It is mainly indicated as having diuretic effect which is useful in the treatment of kidney and liver problems. The roots, seeds and leaves of chichorium intybus(Kasini) are used for the purpose of medicine according to the Unani medical literature.
It is advisable to identify the original Kasini to get the real effect of it. The duplicate Kasini will not only effective but also may cause damage the body system. In this context it is to be noted the caution given by the Central Council for Research in Unani medicine under the Ministry of Health and Family Welfare, Government of India, New Delhi in the book entitled Standardization of Drugs of Unani Medicines, part I (1987).
"There is another species of chichorium i.e. chichorium endiva linn which is a cultivated variety. This species is also known as Kasini"
KASINI IN SIDDHA
Pulichchi Keerai is not Kasini Keerai
Siddha is an ancient Dravidian medical system which has been in practice in the entire Tamil Nadu from time memorial Siddha uses a lot of herbs available in the entire Dravidian belt. The system of medicine is connected with Tamil culture and heritage. Nowhere in Siddha Kasini is mentioned because it is not a siddha herb and the Siddha physicians are not aware of this wonder herb. The Tamil Nadu Unani Pharmocopeia describes a lot of herbs which includes a variety of pure Unani herbs which are not familiar in Tamil Nadu. The Siddha literature mentions Pulichchi keerai (English Name: Indian Sorrelredsorrel hibiscus cannabinus) which is some times mistaken for Kasini, but it is not the real Kasini. People should be aware that Kasini in not a Siddha herb but a purely Unani herb.
See Dr. Kausar daily
10:20 am to 10:30 am
3:00 pm to 3:10 pm
6:50 pm to 7:20 pm
11:00 pm to 11:10 pm
ETV URDU

10:30 pm to 11:00 pm
N.R.I PUNJABI
2:30 pm to 03:00 pm.
10:00 pm to 10:30 pm
JAGRAN CHANNEL

1:10 pm to 01:20 pm
8:30 pm to 08:40 pm
7 STAR CARE

8:30 am to 8:40 am
7:30 pm to 7:40 pm
10:30 pm to 10:40 pm
JAIN TV

11:30 am to 12:00 pm
2:30 pm to 3:00 pm
100 BEDS
KASINI DIABETES
HERBAL HOSPITAL
SUKOON MAHAL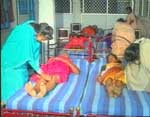 PATIENTS UNDER TREATMENT
HOSPITAL INSPECTING BY DR. KAUSAR HIMSELF
MUGHAL GARDEN