Dr. S. AKKBAR KAUSAR
DR. CHECKING THE PATIENT
PREPARATION FOR MEDICINES
It is with a sense of contentment and delight I present this second edition of my popular book "Kasini the Holy Wonder Herb". The copies of the first edition of this book were sold out within a short span of time, like hot cakes. This publication concides with three decades of my dedicated service to Medicine. The present edition is a revised version of the earlier edition and contains more information about the recent researches conducted on Kasini regarding its efficacy on various ailments.
A WONDER TREASURE OF MEDICINES APPROVED BY WORLD'S RENOWNED DOCTORS IN WHICH YOU CAN GET COMPLETE AND RELIABLE TREATMENT FOR INCURABLE DISEASES
Health Plus is available in
3 languages (English, Hindi, Bangla) right now
and planning to publish in 9 more languages.
This magazine is published by
Diamond Comics
See Dr. Kausar daily
10:20 am to 10:30 am
3:00 pm to 3:10 pm
6:50 pm to 7:20 pm
11:00 pm to 11:10 pm
ETV URDU

10:30 pm to 11:00 pm
N.R.I PUNJABI
2:30 pm to 03:00 pm.
10:00 pm to 10:30 pm
JAGRAN CHANNEL

1:10 pm to 01:20 pm
8:30 pm to 08:40 pm
7 STAR CARE

8:30 am to 8:40 am
7:30 pm to 7:40 pm
10:30 pm to 10:40 pm
JAIN TV

11:30 am to 12:00 pm
2:30 pm to 3:00 pm
100 BEDS
KASINI DIABETES
HERBAL HOSPITAL
SUKOON MAHAL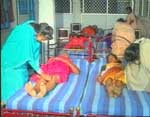 PATIENTS UNDER TREATMENT
HOSPITAL INSPECTING BY DR. KAUSAR HIMSELF
MUGHAL GARDEN